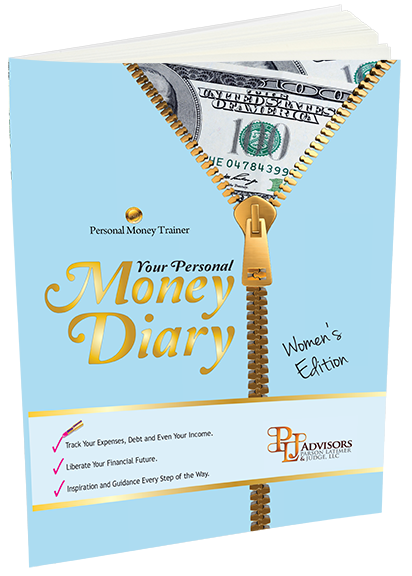 As a Personal Money Trainer, I have seen firsthand the importance of knowing what you have, what you need and what your money goals are. When it comes to planning your financial future, it's essential to know what you have in order to make smart decisions.
While living within your means might not enable you to buy a bigger car, more expensive home or make larger investments right now, it can set you up for financial freedom later in life. This doesn't necessarily mean big changes have to occur in your current lifestyle but understanding your finances can give you a better idea of what you'll need down the road. It will also help you understand how taxes and inflation can affect your income and expenses.
     ✓ The only way to understand your money is to see everything in writing. That's why we have created Your Personal Money Diary.
     ✓ Your Personal Money Diary will track your expenses, debt, and even your income. It will allow you to break down what you spend versus what you make and truly understand where your money is going.
     ✓ Mapping out your yearly expenses, debt, and income can also assist you with prioritizing. Maybe it's within your means to increase contributions toward retirement investments, or maybe it's in your best interest to focus on paying off loans first and then tackling savings. Your Personal Money Diary will offer inspiration and guidance every step of the way.
     ✓ Organizing and understanding your finances can truly offer relief, peace of mind and excitement as you look towards the future. Your Personal Money Diary will guide you through the process of calculating your yearly net income, fixed and flexible expenses, goals and net worth. Taking control of your financial past and present can liberate your financial future.
To order your Personal Money Diary, click here to purchase it in Amazon.
A Special Offer! Download a Lite version of Your Personal Money Diary!
The Personal Money Diary Lite is a condensed version of my popular Personal Money Diary. Due to its enormous success and the positive feedback from clients, I realized that this was something that could benefit more people. I created the Personal Money Diary Lite to give everyone a head start on planning for the future.